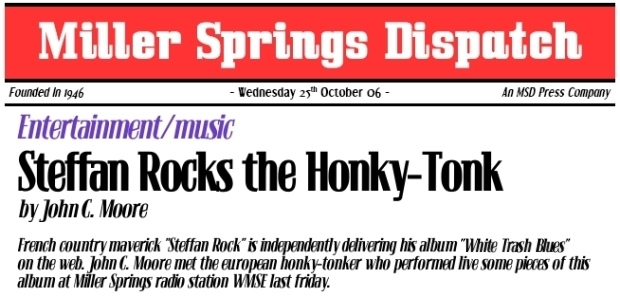 The young european is just coming outside the radio studio where he gave a 30-minute unplugged performance showing what a french singer could supply to a country audience. He sweat, gave the best of himself and is proud of the reaction of his american fellows. His new album « White Trash Blues » features a collection of honky-tonk and rockabilly tunes which have nothing to do with the slick Nashville sound. To dry his sweat, he's having a beer and talking about his music.
Does « White Trash Blues » hit the airwaves in Europe ?
What the hell, no ! This album was not intended to be aired on radios which actually don't care a damn about this music. They don't care about this music when it's slickly arranged, so for a raw recording like mine, I gave up all my hopes (laughs) ! Though I have my own radio show as a deejay where I could play it. But it's a small show on a underground radio station in Europe. It's just spreadin around the web where my connections and friends make goddamn much publicity, that's amazing. It's underground, it won't hit the billboard and it's never been the kind of music to hit the way up. It's a late-night thing, a dark experience.
A « dark experience », the album sounds gothic and you write about fall and redemption, you think about dark things all the time ?
« White Trash Blues » deals with anything that can happen in the real life. I am strongly influenced by Hank Williams and Johnny Cash though I am not as a good songwriter as they were unique. I write and sing about love that turns fine or bad, murder, religious things, moving. It may all sound cliché but that's just life. Like the hands of preacher Powell in « The Night Of The Hunter », love and hate, fall and redemption are constantly fighting each other in my music. Singing dark things is to me a way to conjure that. Singing about murder for example allows me to think about that and not to commit such a crime. It's like a nightmare : when you wake up in your real life, you simply find it beautiful.
Who are the artists who have influenced you ?
Like I said, the songwriting of Hank Williams and Johnny Cash impresses me but my first musical shock was Elvis Presley. I mean Elvis during the Sun Records time. It was minimalistic and blended blues and country with just two guitars and a bass. Dwight Yoakam is a living hero to me. I like Brian Setzer who's keeping the rockabilly flame in the 3rd millenium. Hank Williams III, Marty Stuart, Jon Spencer, Alan Jackson, The Cramps are other various people who have a strong impact on my music persona. Muddy Waters, Arthur Crudup and all the bluesmen. Country, Blues and Rock'n'roll are the backbone of my music.
How do you define your music ?
I don't know. I regard myself as a honky-tonker because honky-tonks are the places where that kind of music had been originally played. But I'm probably too country for the rockabillies, too rock for the country listeners. It's probably always too something for everyone but it's a style.
How did you record « White Trash Blues » ?
I needed some months as I don't earn money with music. I don't make enough bucks with my music. I could do if I played dance music or hit music but I don't enjoy it. So I must have a « real » job next to my musical activities. The company, in which I was working until now, went out of business so it allowed me some time to write and record this album. Marv Iron Cross led the electric guitar on the recordings and my buddy Jesse Sawngun engineered and produced the whole thing at his own recording factory in the country, among chicken, pigs and cows. You've never heard of them two because they are at least as famous as I am ! (laughs) Since then, I've found another job so wait until I'm fired to hear my next album !